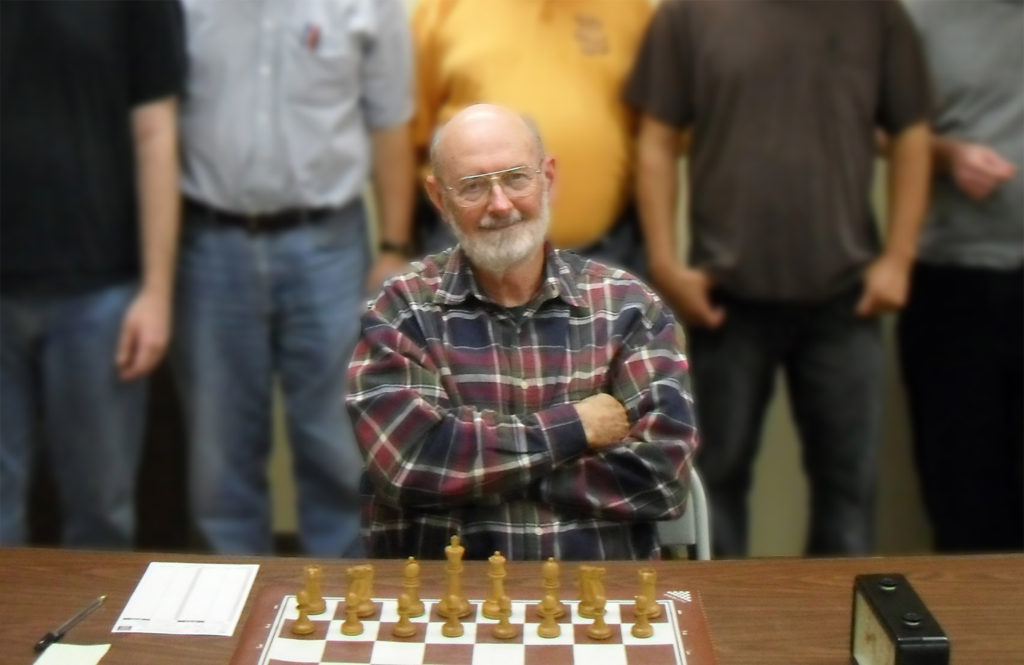 Our November Player of the Month was raised in Dalhart, Texas. When he was twelve years old, "Some old fella taught me and a buddy how to play chess at the youth center." His chess skills improved at a steady marathon-like pace. By age 30 he achieved a solid, 2070, expert's rating. Five years later he earned his national master certificate. Today US Chess honors him as an Original Life Master (requires 300 rated games as a master).
He often jokes about learning chess in college and in prison. While studying at Texas A&M he accompanied the chess team to play matches at New Mexico State University and with inmates at Huntsville Prison. He graduated with a Bachelor of Science degree in Mathematics. He attended graduate school for one year but left because his COBOL expertise was eagerly sought by well-paying corporations. He enjoyed a 30-year career as a computer programmer for Pantex's nuclear science program in Amarillo. After retirement he began a second career as a COBOL programmer for another Amarillo company.
Over the decades he has proven to be the "rock of Amarillo chess." He organized and directed tournaments. He mentored, coached, and inspired. For a time, he and his wife volunteered as Texas Knights editors. His personal library contains one of the largest chess collections in Texas. He has over 600 issues of Chess Life (and he read every copy). He also has years of printed Texas Knights and over 2,000 chess books. His peak rating was 2315 in 1995. He won the Amarillo Championship and Co-Championship at least eleven times (online records show 1992, 1994, 2002, 2005, 2010, 2011, 2012, 2013, 2015, 2018, and 2019).
He is a US Chess Life member and ranked in the top 50 for all USA seniors. He is ranked in the 98th percentile for all USA players and in the 99th percentile for all Texans. Since online record keeping began in 1991, US Chess credits him with over 1,500 rated games and Chief Director of 34 tournaments. If the online records were fully accurate his numbers would easily be three-times as many.
We at Texas Chess Association consider US Chess Original Life Master Gary Simms "our rock" and proudly salute him as our November 2020 Player of the Month.
There are many others worthy of Player of the Month. They honor all of us every day by their good works. Please tell us about them. Send an email to txchessfacebook@gmail.com. Current TCA membership required.