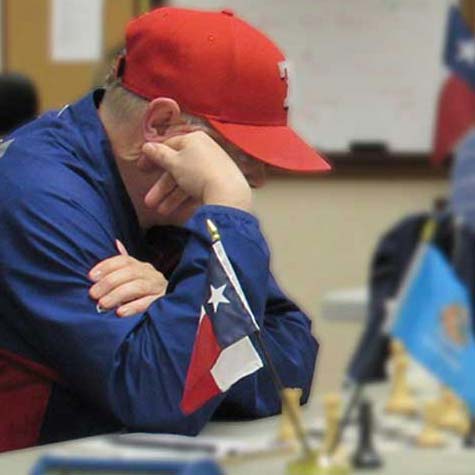 These are very trying times given the severity of Coronavirus around the world. It has certainly halted everything we have become accustomed to in our daily lives and that includes our Royal game. There's next to no chess tournament's or even casual club play. We were able to fit in the State South Scholastic with over 1,100 players, but State North is postponed. Hopefully the necessary medical testing and vaccines will be available, and some semblance of normalcy will be re-gained so we will be able to run the Texas State and Amateur Memorial Day weekend followed by State North May 29-31.
On a side note if the lack of tournament chess is becoming an issue you might consider an on-line tournament. I played my first one hosted by the Arlington Chess Club earlier this week. Other than my horrible play the event went quite smoothly. At my station in life I have seen a lot of things and I know the axiom "eventually this will pass" will be true and our lives, including the Royal game will return to normal. However, during this hiatus the on-line option is very viable.
When we do get back to some state of harmony there will be tournaments to run which were postponed and there is also a USCF Executive Board Election this summer. Just because you're a USCF Member does not mean you can vote, you must register. In order to be qualified to register as a US Chess Voting Member, you must be a current US Chess member who will be 16 or older on June 30th of the upcoming election cycle. You must also register no later than May 1, 2020. The link to register is shown below.
https://secure2.uschess.org/voter-registration.php
Lakshmana Viswanath (more commonly known as Vish) is our candidate from Texas. While the Coronavirus has stopped our lives, the election will still be held and our Great State still has the MOST USCF members. Having Vish on the Board will ensure our voices in Texas are heard on the numerous issues of our Federation. One of these was the decision to not allow scoring devices at National Scholastic USCF events. The Lone Star State can change the course of the election. Please register to vote and consider all the candidates fairly.
Lastly, same message this issue as the last, and this is one I take very seriously. TCA has a HUGE perception problem as non-value added. Why – because people don't know or understand what we do. Tens of thousands, that's right tens of thousands of players show up and play our events that YOU make happen. The players and scholastic parents know somebody did something to make it happen, but there's not much thought past that. "We", the Texas Chess Association provide the organizational infrastructure for chess across the State that facilitates these events being run. Think about all of them, Scholastic State(s), Texas State and Amateur, Southwest Open, all the Regions, Texas Women's, TCA Girls, Texas Senior and I'm leaving some out. When you support TCA by buying a membership or playing in one of our events, you're supporting chess across our state. Please focus on the talking points when you get engaged on the value proposition of TCA.
Lastly, go play in or run an event, it's the number one thing you can do to support chess.