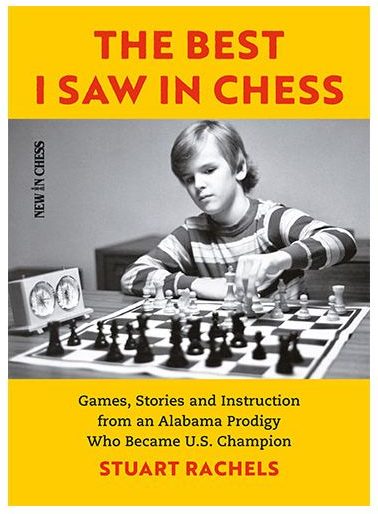 At the start of the U.S. Championship in 1989, Stuart Rachels was ranked last. With no International Master norms, the 20-year-old amateur from Alabama was expected to finish behind the other invited competitiors, such as Grandmasters Seirawan, Gulko, Dzindzichashvili, de Firmian, Benjamin, and Browne.
Instead, as the summary for The Best I Saw in Chess: Games, Stories and Instruction from an Alabama Prodigy Who Became U.S. Champion continues, "Rachels pulled off a gigantic upset and became the youngest U.S. Champion since Bobby Fischer. Three years later he retired from competitive chess."
The publisher's website provides sample pages. In those, Rachels refers to Zsuzsa (Susan) Polgar as "cute." There is a tradition of describing women by physical characteristics. However, Rachels also describes Tim Taylor as "handsome" so he assesses both women and men by appearance even-handedly. And he doesn't mention looks often. More often, Rachels shares stories about chess players.
Although stories adds color, the boldface-font (my highlighting) part of story about Grandmaster Maxim Dlugy seems unfair. Rachels wrote about Dlugy and Grandmaster Roman Dzindzichashvili at the 1989 U.S. Championship: "While [Michael] Rohde was thinking, Dzindzi began walking around the tournament hall with GM Max Dlugy, chatting in Russian. Dlugy, at that time, was probably the world's leading expert on the Classical Sicilian with 7…a6 and 8…h6, and Max's own ethics had sometimes been called into question [boldface added]."
1989 was before Dlugy was imprisioned in Russia for embezzlement, a charge he was acquitted of in 2005. And since he was acquitted, where are the questionable ethics? Dlugy is a former World Junior Champion and, in 1990, became the youngest United States Chess Federation President. I have met both Rachels and Dlugy; I don't know either of them well.
On the bright side, Texan and FIDE Master Keith Hayward has a game (a loss to Rachels) in this book! Hayward has been a Texas resident since 1994, and is the only current Texas resident to have a game in Rachels' book. I emailed with Hayward, and 11…f6! (rather than 11…h6?) would have led to a slight advantage to Hayward.
Hayward wrote, "The 1990 Midwest Masters was a once in a lifetime tournament for me despite my loss to Rachels. It was a 7-round tournament. It went: R1 win against Expert Howard Wachtel (French), R2 win against IM Michael Brooks (Bird), R3 win against IM Tim Taylor (Bird), R4 draw against IM John Donaldson (Dutch), R5 draw against GM Leonid Shamkovich (French), and R6 win against GM Stefan Djuric (Bird). The win against Djuric is my all-time favorite Bird Opening Game."
Hayward's email continued, "I was on cloud-9 with that win over Djuric. At 5 out of 6, I was ensured the U2400 prize, $450, which was the largest amount of money I had ever won. I also had secured my final norm for the FIDE Master title. I was insanely happy! I took a two-hour nap! For the final round, as you know, I was paired against Stuart Rachels. I had never heard of him before the pairing. We were the third board on the big stage. Typical school stage, 5 or 6 feet above the gymnasium floor. I was pumped to play this game. It was surreal standing up on the stage overlooking the playing hall. Next table to mine was GM Maxim Dlugy versus GM Tony Miles. I had a chance for about $4,000 with a win. Even a chance to share first place??!! I could not have dreamed for more. Miles ground down Dlugy, not that unlike how Rachels ground me down. I felt I was in good form for that final game. Rachels' concept of 9 Nb3 and 11 Kf1 was completely new to me. I had no idea what to do, and I think my 11…h6?! was lame and 11…f6 had to be tried. I tried to fight back in the middlegame but he ground me down in beautiful boa constrictor style. Of course, I was upset, but the tournament as a whole was a fantastic success for me. I felt I gave it my best effort, but he simply played better and deserved the win. It happens ….. afterwards I learnt he had won the US championship …. it did not make me feel better."
For Rachels' annotations on that Hayward game and dozens of Rachels' other games, buy The Best I Saw in Chess: Games, Stories and Instruction from an Alabama Prodigy Who Became U.S. Champion. I got the eBook version and it is very easy to click through each game and variation. If, as Black, you play the Sicilian or want a weapon against the King's Indian Attack, you will find many illustrative and helpful games. For beginners, the chapter on blunders and the Lucena position (in the Rook Endings chapter) are great places to start. An interview with IM Stuart Rachels, which also contains more games and stories from his book, is available on ChessBase.