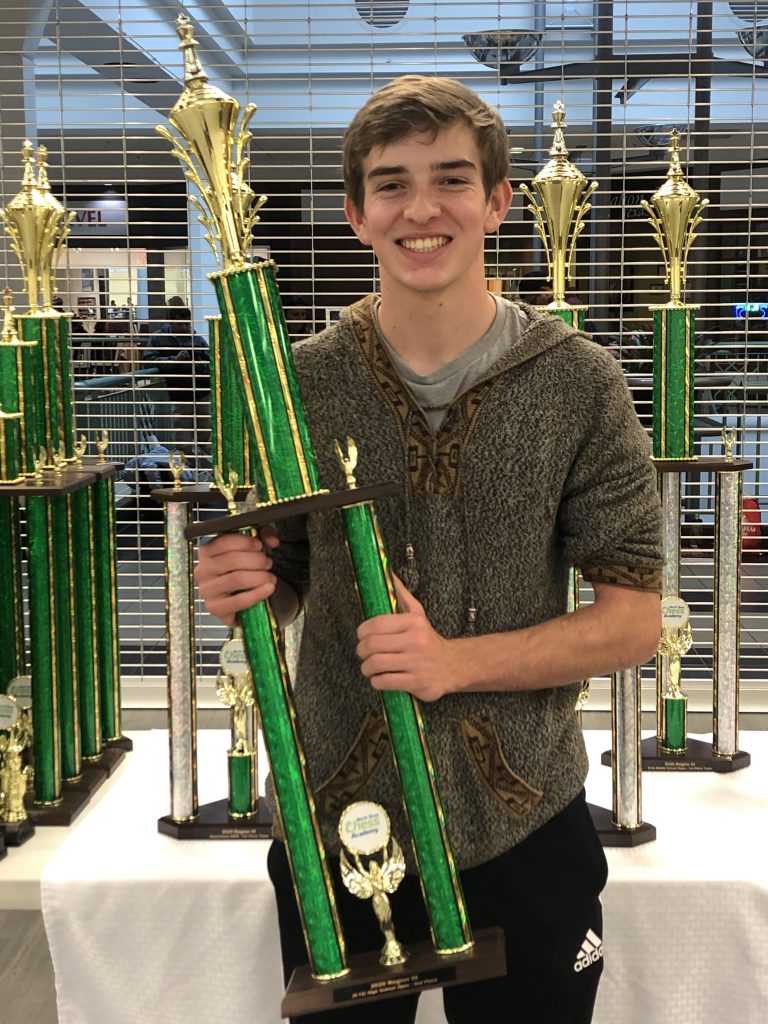 Congratulations to Chess Expert Cole Frutos for winning the 2020 Region III Championships High School Section in Lewisville on January 25th. He scored 4.5/5 points to top a 30-player section. Along the way he beat one Expert and drew another.
North Texas Chess Academy (NTCA) sponsored the 312-player championships consisting of eight sections. US Chess Original Life Chess Master and Senior Tournament Director Chris Toolin was Chief TD. Chess Expert and Local Tournament Director David Gaston was Chief Assistant TD. Floor TD's and/or Tournament Aides were Jeff Sullivan, Mike Bowden, Renessh Parappurathu, and David Harvey.
NTCA, located in Carrollton, has sponsored 275 tournaments involving over 1,500 players since its founding in June 2016. NTCA has 12 staff offering chess lessons, coaching, Grand Master lectures, simultaneous exhibitions, and at least 20 summer camps every year.
Cole Frutos began his chess career in July 2010. Since then he's played 1,480 rated games including three wins and one draw against masters. He is ranked in the 98th percentile for all USA Juniors. He is ranked in the 95th percentile for all USA players and in the 98th percentile for all Texans. He is also ranked in the Top 100 for Quick Rating Top Under Age 16 (number 83) and Blitz Rating Top Under Age 16 (number 96).
Congratulations again for your Champion's achievement and title, Cole Frutos. Well played and well earned.
Photo by Barbara Osborne — at Music City Mall Lewisville.