(Waco, Texas, 09/26/2020). In a surprise ceremony attended by friends and family members, Daniel Guel received the first ever Leon Powers Chess Sponsorship Award (LPCSA), a United States Chess Federation Life Membership. The ceremony happened before the start of the invitational ten-player tournament, Waco Sanitizer Swiss #3, in a private Waco home. Sarah and Jason Howell were the exemplary hosts.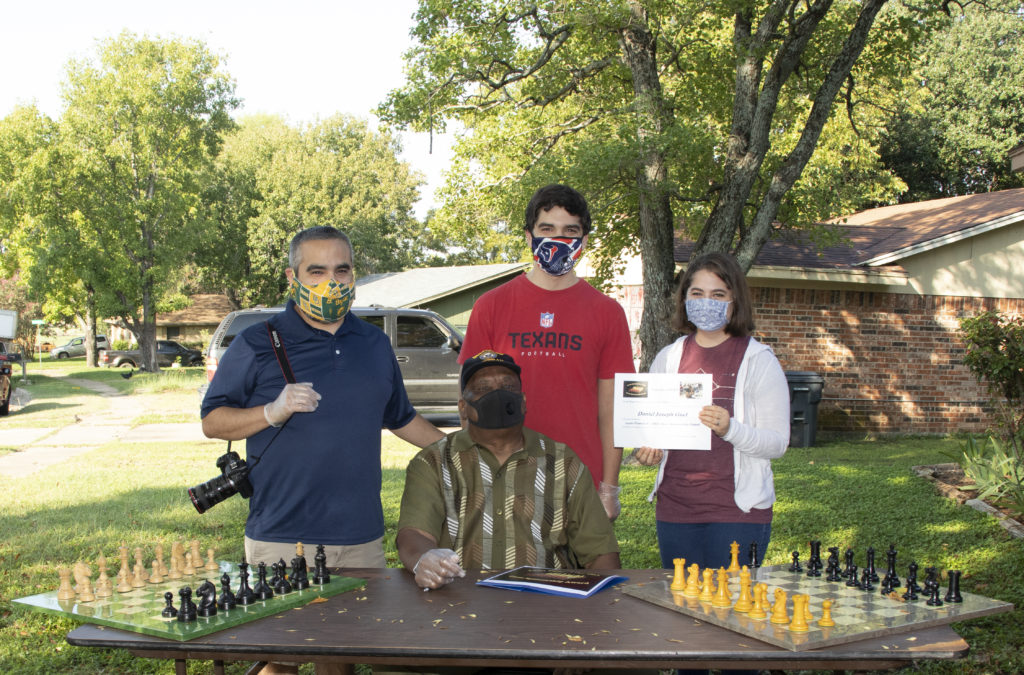 At age 16 Daniel Guel became one of the youngest tournament directors in Texas. He has credit for 49 tournaments as Chief Director, including several City Championships. He became his city chess club's youngest ever board member. Other club officers marvel at his maturity, leadership, and organization skills. If they had their way, he would still be a club officer, but he moved forward with his life after graduating from high school.
Today he attends McLennan Community College with the goal of an Entrepreneur Degree from the University of Houston. He continues to mentor and teach young chess players. He plays OTB when his busy schedule allows. He normally has no time to organize and direct tournaments. However, when the pandemic hit, he organized Chess.com tournaments for local players. He also publishes a series of informative chess videos on YouTube:
https://www.youtube.com/channel/UCSp1S7R6EOD0obuhfRG84iQ
About the Leon Powers Chess Scholarship Award
At the urging of his wife, Leon Powers Jr., DBA, funded the LPCSA out-of-pocket. Dr. Powers lived his early life in the "Projects" of Corpus Christi. He had five siblings and was raised by his mother and father, who remained married until the end of their lives. Life was hard. The family was poor. At age 10 the only Christmas gift he received was a red-and-black chess set. That chess set changed his whole world. He played every chance he could.
Dr. Powers grew up. He joined the Navy. He challenged himself and applied for the SEAL training program. Navy SEALs are an elite fighting force consisting of only about 2,500 warriors. He proved himself and became one of them. He served our nation honorably and did his part to keep America free. Much of what he did is classified and those stories cannot be told. He rose through the ranks and achieved the highest enlisted rank of Master Chief Petty Officer, "Master Chief" for short.
After retiring from the Military in 1989, Dr. Powers went back to school under the Veterans Administration's Chapter 31, Vocational Rehabilitation Program. He achieved his Doctor of Business Administration (DBA) degree at the University of University of Texas at Arlington. Today he is a successful businessman.
Dr. Powers is a man of renown in many chess circles. US Chess Life Member. TCA Lifetime Regular Member. Ranked in the 95th percentile for all Texas chess players. Texas Chess Team member. Member of the Tarrant "Butchers" Chess Team. US Chess credits him with nearly 1,000 rated games played in nearly 300 tournaments since online record keeping began in 1991. Those numbers would double if everything before 1991 was included. Always striving to improve, today he takes lessons from Grandmaster Melikset Khachiyan.
Dr. Powers always remembers where he came from. He started paying back in the early 2000's when he volunteered and taught chess three-hours a day, four-days a week, at a local elementary school. One of his students, a young girl, had learning issues and behavior problems. Her teachers viewed her as impossible. He did not see it that way and did not give up on her. Soon an almost magical transformation began. The child started paying attention. Her focus improved. Chess became something she could appreciate and be good at. Like her mentor, chess opened a whole new world. She went on to graduate from high school. She went to college. She graduated with a 3.67 GPA from the University of Texas at Arlington.
Dr. Powers was asked why he created the LPCSA? He replied, "I want to pay back Chess for all it's done for me over so many years."