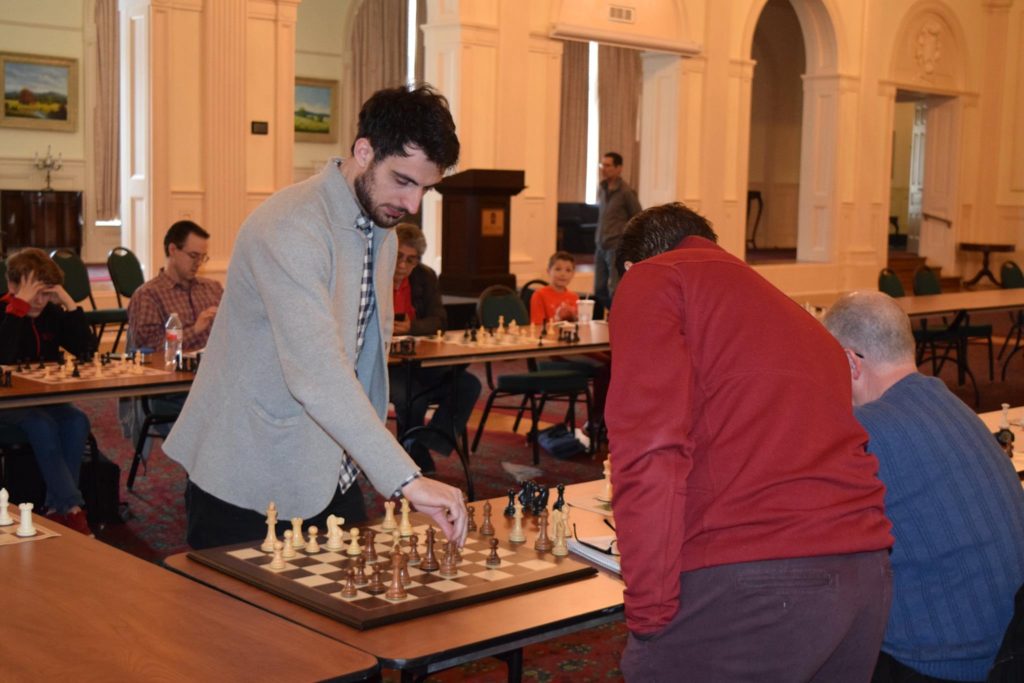 Our Player of the Month was born in Georgia, not the state but a small country near the intersection of Eastern Europe and Western Asia. His homeland is famous for being the cradle of winemaking. It is bounded on the west by the beaches of the Black Sea and is renowned for being nestled within the beautiful Caucasus Mountains. Its recorded history dates back 4,000 years and Its ancient cities and villages still have timeless cobblestone roads. Its population of 3.7 million people are passionate about physical sports, such as soccer, judo, and wrestling. They are also passionate about chess, which is where our story begins.
When he was 7 his father taught him to play. His brother and sister also learned but showcased their talents in other areas. His neighbor was a five-time world women's chess champion, but her sister became his mentor and trainer. By age 13 he started attracting a lot of attention in national chess circles. He rapidly improved and earned his International Master (IM) title in 2012. He went on to win six national championships. A friend attending the University of Texas at Dallas (UTD) encouraged him to reach out to the UTD chess program. They were extremely excited about his qualifications and potential. That is how he ended up in Texas. Today he is a proud UTD graduate of Arts and Science, living and working in Dallas, and working on his Grandmaster title.
He is ranked Number 5 in Texas (99.8th percentile) and Number 47 in the USA (99.7th percentile). He is also ranked Number 1,284 for all active World players. Most recently he tied for 1st in the 2021 DFW FIDE PREMIER 2. He also won the 2020 US Chess Grand Prix (worth $5,000). His US Chess accolades are numerous: Original Life Master (requires 300 games as a Master), National Master, Life Senior Master (norms-based), and he won or tied for the Texas State Champion's title four times (2016, 2017, 2018, 2020).
He has touched many lives since his arrival in Texas. He coaches, lectures, and conducts simuls at North Texas Chess Academy. Universally admired for being gracious and approachable, Waco chess officials described him as being "charming" during a February 2019 simul he conducted there. "He was very patient and understanding, especially with our younger players who sometimes forgot to wait until he approached their board before making their move." Said one club officer. "He would smile and tell them it's okay that you made your move early, just try to remember next time to wait until I return to your board, okay?" What really impressed the parents and players alike was his willingness to look at each game, during the postmortem, and describe what he was thinking in critical positions.
"Play, learn, play, repeat." is his advice to others aspiring towards chess excellence.
He is one of the strongest chess players in Texas and the World, yet he puts on no airs. He is an outstanding chess ambassador. He greats others warmly and treats all with friendship and humility. He transcends boundaries, uplifts, and inspires. For all these reasons we, at Texas Chess Association, proudly salute International Master Zurabi "Zura" Javakhadze as our April 2022 Player of the Month.