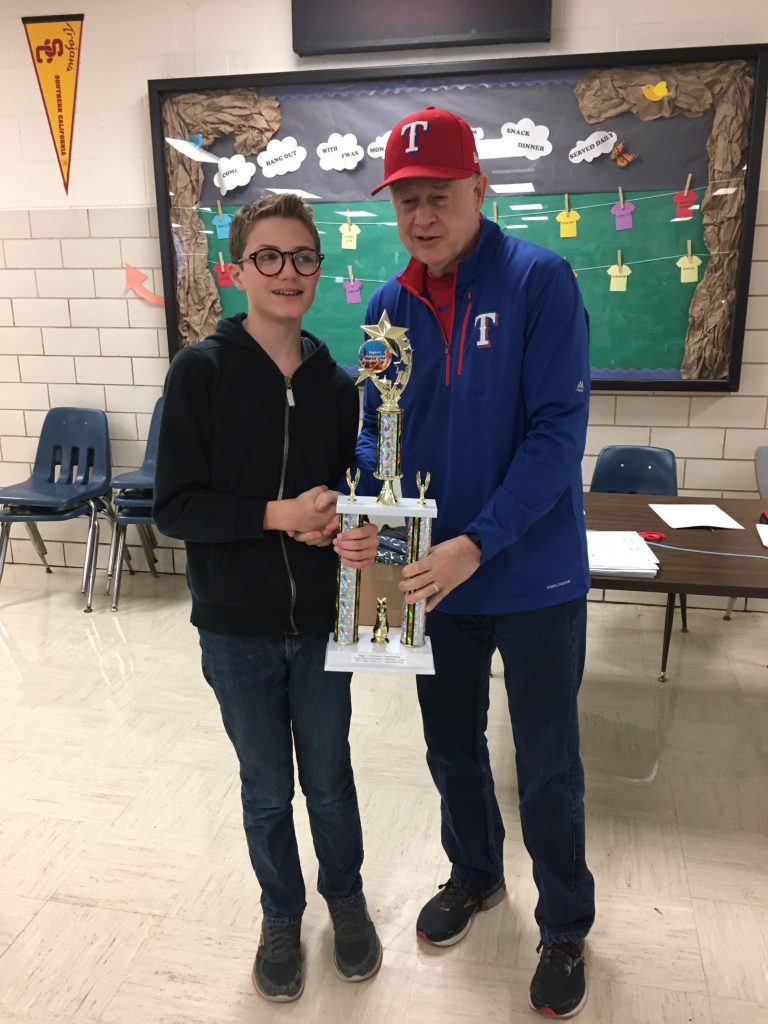 Congratulations to Drew Shafer (left in the photo) for winning 1st Place on tiebreaks in the Under 900 section of the 2020 Region II Championships. Young Master Shafer scored 4.5/5 and gained 171 rating points. He is ranked in the 62nd percentile for both all USA Juniors and all Texas chess players. He is a member of the Waco Home School Chess Club run by Deborah Shafer and Dan Shafer. The club consists of home-school students, grades K-12, and averages 20-25 players every meeting.
TCA President and Region II Director Tom Crane (right in the photo) awarded the prize. Local TD Doug Stephens was Chief TD of the 81-player championships which consisted of three sections. Senior TD Christopher Joseph Wood was Chief Assistant TD. Club TD Alex Yenne was the Floor TD.
Tom Crane, Doug Stephens, and Chris Wood are all members of the Texas Chess Team which will do battle against the Oklahoma Chess Team, in RRSO XVIII, on April 18th in Davis, Oklahoma. As all serious Texas chess players know, the "Real" Red River Shoot Out is a series of annual team matches between the most fanatical chess players in Oklahoma an Texas. Texas leads the series 10-7 despite playing on the road year after year.
Congratulations again to Drew Shafer for making Waco, Region II and all of Texas proud.
Go Texas Chess Team and go TCA!
Photo by Deborah Shafer — at Wedgwood Middle School.