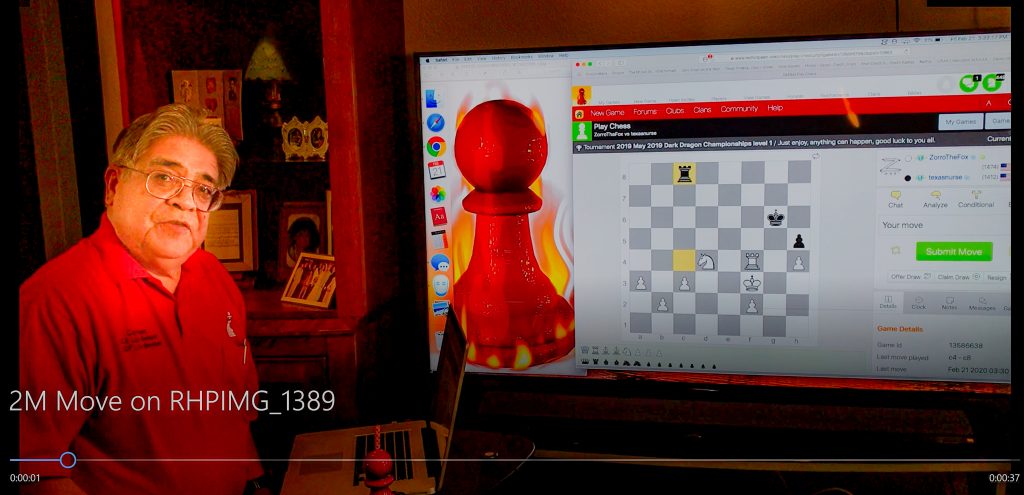 Congratulations to Carmen Chairez for achieving his two-millionth move on Red Hot Pawn dot com.
Mr. Charez is a Texas Chess Association Lifetime Patron Member. Last October, he served as Captain of the Waco "Hogs" Chess Team and inspired his team to end a three-year losing streak with a 19-11 shellacking of the Tarrant "Butchers."
As an Army officer serving in Vietnam, Carmen Chairez honed valuable leadership skills that continue to serve him well. He is Captain of the Texas Military Chess Team. In 2017 he was awarded the National Chess Master Bill Wall Texas Legacy Award for exemplary chess leadership and service. He won the Fort Worth Veterans Open Chess Championship twice (2018 and 2019). He is a US Chess Life Member. He is a Texas Chess Team Member. Over the years he mentored and developed many young chess players, including US Chess Original Life Master Austen Green.
Mr. Chairez is ranked in the 94th percentile for all Texas players and in the 87th percentile for all USA players. He is also ranked in the 61st percentile for all USA Seniors.
Congratulations again, Carmen, for your significant lifetime achievement — in Round Rock, Texas.