1st
Ryan Amburgy
5.0
$263
2nd
NM Andy A. Woodward
4.0
$175
3rd
CM Tim C. Steiner
WIM Alexey W. Root
Sharvesh Deviprasath
Shaun Graham
Jim Hollingsworth
3.5
$18
each
($90)
City
Champion
Curtis K. Fukuchi
3.0
Plaque
U1800/
U1600/
U1400
Adley Bufford
Robert R. Heise
Shreyas Deo
3.0
$56
each
($168)
Biggest
Upset
Shreyas Deo (574 pts)
$17
Reserve 1st
Morgan Chryst
4.0
$70
Reserve 2nd
Simon Frayzond
3.0
$53
Reserve
U800
Wendy D. Reed
2.0
$35
Reserve
Biggest
Upset
Wendy D. Reed (541 pts)
$10
Prizes
Amburgy perfect 5-0, Fukuchi wins city title
The 3rd Annual Queen City of the Prairie (QCP) Open and Fort Worth Championship (FWC) was held at the Hilton Garden Inn Fort Worth Alliance Airport July 18-19, 2020. Ryan Amburgy of Oklahoma scored a perfect 5-0 to win clear first place, freshly minted NM Andy Woodward finished in clear second place with four points, and five players tied for third place with 3.5 points.
In addition to the cash prizes available to all players, a title plaque would be awarded to the top finishing Fort Worth resident. Five Fort Worth residents were among the 29 player field vying for this honor in the Open section.
After uncharacteristically dropping a piece in round one and suffering the resulting loss from it, eventual FWC winner Curtis Fukuchi, stated after the tournament, "I thought I was done for." However, he would be paired head-to-head with White against fellow FWC contender, 2019 Alliance Chess Club Champion, Thomas Chryst for round two. This would be one of only two head-to-head pairings between competing FWC rivals in the tournament, and a win would help to solidify either player's position in the championship standings.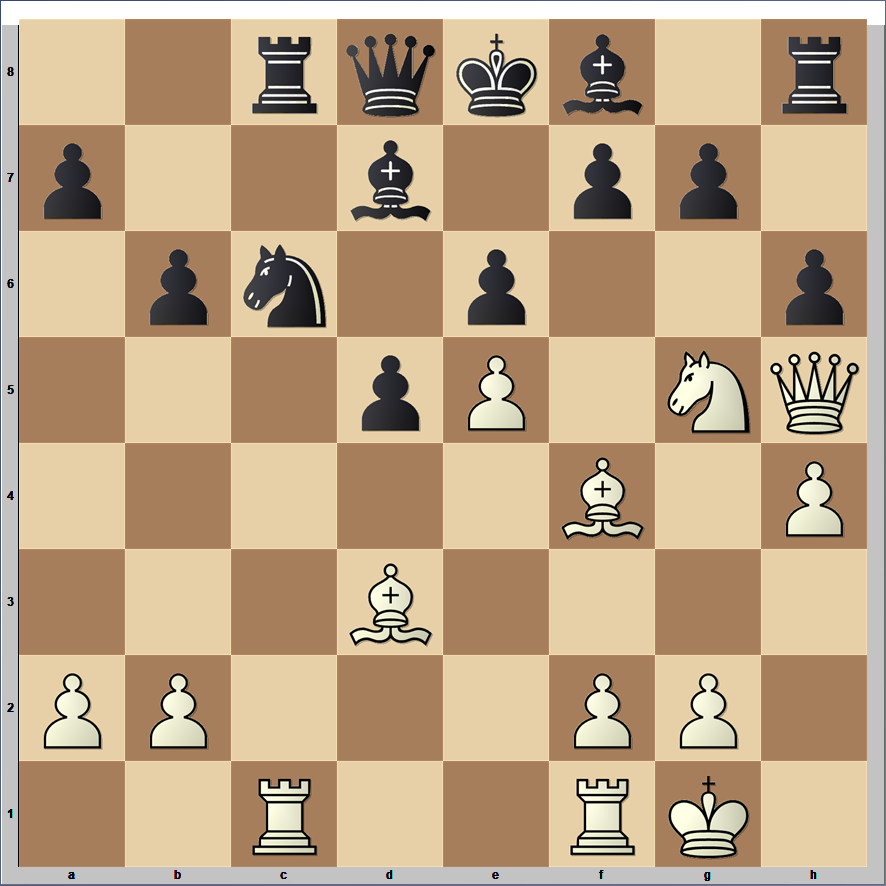 C02 French Advance Variation
Curtis Fukuchi 1811
Thomas Chryst 1613
3rd QCP Open & FWC, Fort Worth, TX (2)
1.e4 e6 2.d4 d5 3.e5 c5 4.c3 Nc6 5.Nf3 Qb6 6.Bd3 Bd7 7.O-O cxd4 8.cxd4 Nxd4 9.Nbd2 (last book move) Nxf3+ 10.Nxf3 Ne7 11.Be3 Qd8 12.Rc1 b6 13.h4 Nc6 14.Bf4 Rc8 15. Ng5 h6 16.Qh5?! (see diagram)
White's move threatens to capture the Rook if the Knight is taken. However, the recommended move was to simply retreat the Knight. Black missed an opportunity by not taking the Knight (which would then be followed by taking the Bishop after the Rook is taken). Play continued with 16. …Qe7? Unfortunately, this is a losing move for Black and sets up White's winning combination. 17.Nxf7! g5 (17…Qxf7?? would most certainly be followed by 18. Bg6, pinning the Queen) 18.Nxh8+ Kd8 19.hxg5 Be8 20.g6 Qg7 21.Nf7+ Kd7 22.Bxh6 Qg8 23.Bxf8 Qxf8 24.Nd6 Rc7 25.b4 Nxe5 26.Rxc7+ Kxd6 27.Qh7 Bxg6 28.Bxg6 Nxg6 29. Qxg6 Kxc7 30.Qxe6 1-0
At this point, Black could not overcome White's overwhelming advantages and threw in the towel. Certainly this was a well fought game which could have been won by either player. Congratulations to Mr. Fukuchi on becoming the 2020 Fort Worth Champion; we certainly hope to see you back again next year!
Additional coverage of the 3rd Annual QCP Open and FWC was made possible by Texas Knights contributor Dr. WIM Alexey Root, PhD who not only competed in the tournament for her third consecutive year, but also wrote two articles about it. Thank you Alexey!
Chess Life Online (CLO) – https://new.uschess.org/news/getting-back-business
SparkChess (includes all games from the Open section) – https://www.sparkchess.com/joys-and-sorrows-of-over-the-board-and-online-chess.html
Tournament Crosstable – http://www.uschess.org/msa/XtblMain.php?202007195652.0