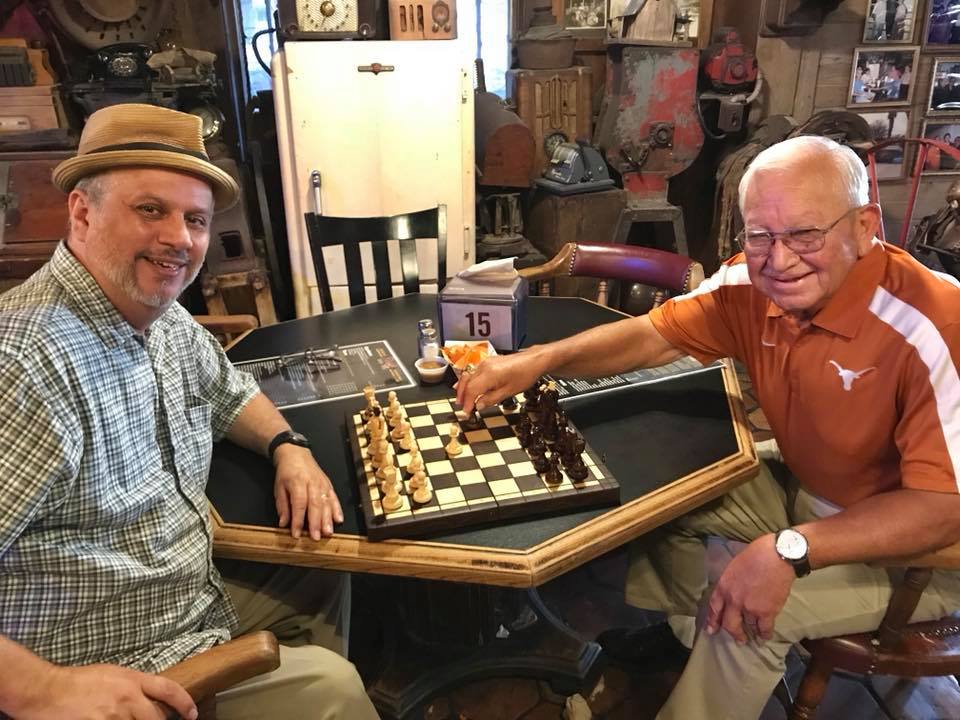 Our May Player of the Month is a story about love. Love for chess. Love for a man who shared that love and in so doing uplifted, inspired, mentored and served as a role model for thousands. This story begins in San Antonio, in the mid-1970's, with a young lad in a single-parent home. There are many temptations for the young to go astray. Our Player of the Month was no different.
Life is about choices and choices have consequences. Some of his friends made wrong choices. He could have easily made similar mistakes. But he was one of the lucky ones and fortunate he had someone to look up to. He stayed the course. He finished high school. He graduated from college. He worked hard. He became a CPA. He married. He is raising a family. And it all started in 1975 when he was in 7th grade. The family budget was tight. The $2 unrated tournaments his friend and mentor set up every other weekend, in the junior high cafeteria, surely helped. At the end of each school year, at least two of those lucky kids went to National tournaments funded by those $2 entrance fees and his friend's generosity.
A child comes into one's life and your priorities change. They needed volunteers to coach chess. He was a busy CPA. He couldn't possibly fit that into his busy schedule, could he? And then he remembered. He thought "If he could do all he did for me, surely I can do the same for others." He went on to coach scholastic chess for ten years. He volunteered and helped as floor TD. After two years he became Chief TD. He did that for eight years and always wondered, "Whatever happened with my friend?"
Searching after thirty years was not easy. Our Player of the Month writes,
"No one had seen or heard from him were the responses. A question was posed if he'd ever been recognized for his past contributions to the local chess scene. No was the reply. It took nearly three months of contacting school district offices, Facebook pages and other dead ends before the author drew upon his career as a CPA. He was found through property tax records. A letter was mailed to his potential address with a return contact phone number."
Success!
At long last our Player of the Month was able to sit down and enjoy a wonderful three-hour reunion with his hero, Roy Mendoza, Sr. (right in the photo), retired teacher and school principal. They talked about many things. They told stories. They laughed. They remembered. Later the San Antonio Chess Club leaders hosted a dinner in Mr. Mendoza's honor.
Sadly, Mr. Mendoza passed in March of this year. Our Player of the Month created a beautiful testimonial to the man who had an extraordinary impact on so many. You can read it in the next Texas Knights. And now you are reading about the man who follows the same path. We at Texas Chess Association proudly salute Richard Garcia (left in the photo) for telling the story of a very wonderful man.
There are many others worthy of Player of the Month recognition. Please tell us their stories. Contact txchessfacebook@gmail.com. Current TCA membership required.